Skip to Content
Does the Paint Protection Film Damage Automotive Paint?
Aside from your home, your car is probably your biggest investment. The average automobile costs about $45k, and many vehicles cost significantly more than that. Many people take out car loans that last for up to 72 months! If you're going to invest that kind of money in something, you want it to hold its value and look as good as it possibly can for years to come.
That's where paint protection film comes into play. A protective film designed to prevent damage to your vehicle's paint job, a paint protection film (PPF) goes by many names. Whether it's called "clear bra," "invisible car shield," or "clear mask, it's a film designed to provide car paint protection that keeps your vehicle looking like new. It's impact-resistant and can keep your car from being damaged by things like bug splatter as well as chips and scratches from rocks and debris.
PPF was developed by the United States military, in the interest of protecting helicopter rotors from dirt and debris. Partnering with 3M, the military developed this technology to lower the number of required rotor replacements, which are time-consuming and expensive. The paint protection they came up with worked so well that the military started using it on the noses of their fighter planes and NASCAR began using it on the front end of their race cars. Car protection film became available to the public in the 1990s, and since then it's become extremely popular with people wanting to protect the investments they have in their cars.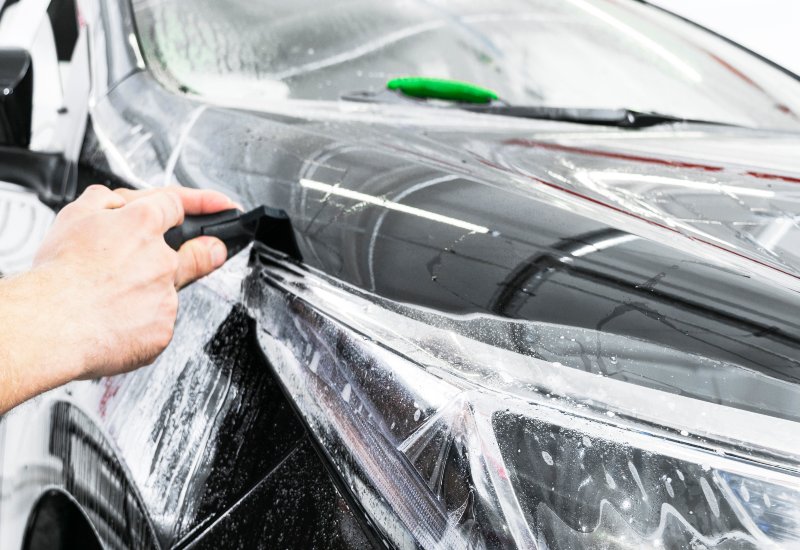 How does paint protection film work? It's made using urethane, which gives it strength and flexibility, so it can be applied to curved surfaces. It can stand up to a great deal of punishment, is completely transparent and lightweight, and is barely noticeable unless someone is examining the vehicle closely from a few inches away. It's customizable, and it's also hydrophobic, which means liquids that hit the surface of the vehicle will simply bead up and roll off of the surface.
PPF is not a miracle product. Although when done properly it does a great job of protecting the car, there are some drawbacks. Cheaper films can oxidize and turn yellow, or begin to peel off of the paint. If improperly applied, PPF can blister. But does paint protection film damage automotive paint? When PPF wears off, it needs to be replaced, and sometimes removing the film can damage the paint it's supposed to be protecting. This doesn't happen with high-quality paint protection films, though, because they remain pliable, easy to work with, and easy to remove, even years after application.
Are you sensing a theme? The best way to protect your vehicle with paint protection film is to choose a high-quality product and have it applied by an experienced, professional technician. When you do this, you can reap the many benefits of PPF, which include:
Preservation of the factory paint job. While paint protection film won't make your car's paint job look better than it is, it will keep it in the condition it's in when the PPF is applied. That's why it's best to have it applied as soon as you purchase the vehicle, while it still has that factory-fresh look. PPF will protect the high wear areas of the vehicle and prevent it from showing its age.
Protection of your vehicle's resale value. Even if your car is in perfect mechanical condition, if the paint job is damaged and chipped, you'll have a harder time selling it for a good price. Paint protection film keeps the paint looking great, so it will hold its value better and be better able to attract a buyer.
Prevention of rust damage. Damage to the paint job opens the door to rust damage. When you have a protective film applied, however, the damage won't happen, and neither will the rust.
Overall peace of mind. Are you nervous every time you leave your new car alone in a parking lot? When your paint job is protected by car protection film, you won't have to worry that every little piece of gravel or stray car door that hits your car will damage it.
Are you ready to protect your investment with car paint protection film? When you're looking for the very best window tinting and paint protection, look no further than Elite Solar Control LLC. Portland's only high-end window tint shop, we provide a wide range of products and are proud to be Portland's certified 3M automotive window film dealer. Our highly-trained staff has over 20 years of experience and factory training certifications, and we pride ourselves on offering exceptional, quality service in the greater Portland and Vancouver areas. Our thorough understanding of the products and services we offer comes from years of working with all products, manufacturers, and brands in the industry. For more information about what we can do for you, call 503-659-8468 or contact us through our website.